Dwayne Johnson: Images
The Rock is a Hollywood star, a WWE icon, and the subject of some amusing memes. The most charismatic performer of the WWE's Attitude Period and the highest-paid actor in Hollywood right now is Dwayne "The Rock" Johnson. The Rock, who went from having only $7 when his football career faded to earning over $89 million in 2019 alone from his movie performances, is the perfect definition of a big success and the epitome of the American Dream. Here are few amusing Dwayne Johnson "The Great One" memes: Dwayne Johnson
Who Wore It Better ?
Dwayne Johnson Meme and Kevin Hart, who co-starred in the movie Jumanji, aren't afraid to make fun of one another. Prior to Halloween 2019, Hart shared a video skit on his Instagram page in which he could be seen trick-or-treating on The Great One's doorstep while dressed as Don Johnson from the early 1990s. The eight-time WWE Champion didn't seem to like Hart's humorous impersonation, at least not in front of the camera. Yet, The Rock is also funny and is capable of answering with a ferocious meme of his own.
The rock pose
In multiple images, The People's Champ may be seen following the same pattern. It's highly likely that The Rock will consider this particular position to be fierce. Either that, or he just can't manage to button up his dress shirt sleeve or fasten his cufflinks.
Rock paper Scissor
The humour of a rock-paper-scissors joke and the mythology of professional wrestling are combined in this amusing meme. The Great One has defeated Stone Cold Steve Austin, "Hollywood" Hulk Hogan, and John Cena. The Rock, however, can't seem to defeat Bill Goldberg, The Hurricane, or his personal Kryptonite, paper. The People's Champ in this joke is no match for paper, despite The Rock's ability to defeat a scissor.  Yet, isn't it absurd that Gregory Shane Helms has never lost to The Rock in a singles match? On a March 2003 episode of Raw, The Hurricane actually defeated The Great One.
Dwayne "The Dock" Johnson
On a chilly summer day, picture yourself strolling out on a dock next to a placid body of water when you look down and see Dwayne "The Rock" Johnson's mug! There are just so many phrases that rhyme with "rock" that can be utilised in amusing memes regarding Dwayne Johnson.
Rock beats scissor.
The Rock is stronger than a scissor, as anyone who has played the game of rock, paper, and scissors can attest. Because of this, if it comes down to it, your girlfriend will choose The Rock over you if you're a scissor and you're friends with The Rock. Sometimes it's challenging not to feel envious. Particularly when your possible rival is a complete alpha guy who has achieved success in almost every endeavour he has undertaken, with the exception of Canadian professional football. To The Rock's credit, he kicked ass in high school and college. However, he most likely still possesses the skills necessary to grab your daughter on the same night that he stars in a Hollywood movie.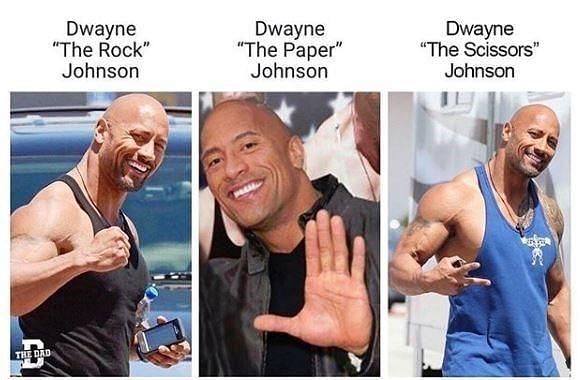 Also read: Fair Aesthetic | Lipstick Aesthetic | Tasneem Ali